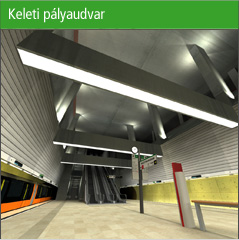 more pictures

Design: Palatium Stúdió Ltd.
The plans suggest that the basic character of the square will not change. The station of Metro4 will be built under the Thököly út and will have direct connection to the current subway-system. The station will be constructed so to allow a future extension towards Rákospalota. The bus stops will be relocated too. The suggestion proposes that the green surface of the square may be extended.

Baross tér is a significant traffic junction even today. The new metro line will further strengthen this position. On completion of the new station, the square will already include two metro lines, a railway terminal with significant national and international trains plus several important surface public transport lines. The appearance of Metro4 can further promote the business development of this region.
Station data
Length of the station: 83 m
Length of the platform: 80 m
Effective platform area: 1100 m2
Underground depth: -14 m
Number of escalators: 6+6
Number of elevators: 2
Number of exits: 2
Construction system: mixed
Station type: middle-platform deep-level station