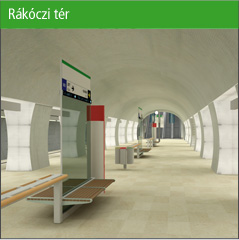 more pictures

Design: Palatium Stúdió Ltd.
As per the proposed version, the metro exit will be located at the part of the square that is on the boulevard side, hence will not disturb either the local residents or the traffic of the square. Two exits are planned from the metro line. Passengers heading towards the József körút can take escalators to get to the shallow subway.

Two large-scale elevators will lift passengers towards the market hall. The station will catalyse the rehabilitation works of the surroundings. It can improve the region's image allowing the appearance of investments. The Józsefváros district can develop to a dynamically improving city quarter outside the boulevard too.
Station data
Length of the station: 106 m
Length of the platform: 80 m
Effective platform area: 950 m2
Underground depth: -23 m
Number of escalators: 8
Number of elevators: 2
Number of exits: 1
Construction system: mixed
Station type: middle-platform