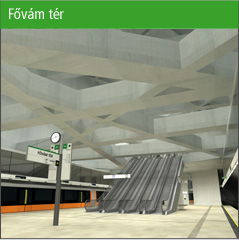 more pictures

Design: Palatium Stúdió Ltd.
In accordance with the plans, the exit of metro will lead to the surface next to the Budapesti Corvinus Egyetem. The subway will have access to the stop of tram line 2, which, in parallel to the construction works, will be fully renovated. The metro exit will be constructed so that both the Váci utca pedestrian zone and the market hall will be easily accessible. Due to this, the City Centre may further extend to the south along the Danube River. Thanks to the metro line, the rest of the surrounding buildings can be reconstructed beyond the renovated market hall and university building.

An opportunity on Kiskörút may arise to widen the sidewalk next to the traffic lane and extend the green surface.
Station data
Length of the station: 87 m
Length of the platform: 80 m
Effective platform area: 820 m2
Underground depth: -30,0 m
Number of escalators: 4+4
Number of elevators: 2
Number of exits: 1
Construction system: mixed
Station type: middle-platform