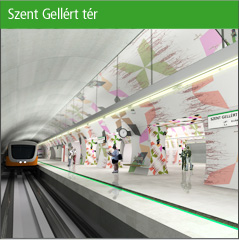 more pictures

Design: Palatium Stúdió Ltd.
Simultaneously with the reconstruction of Bartók Béla út the Szent Gellért tér also received renovation. The road function and the complicated junction character of the square have been reduced. The tram stops were relocated: passengers can now access these easier. In parallel to the reconstruction, the extension of quay tram line towards Petőfi híd was also prepared. An opportunity opened to convert the Szent Gellért tér access section of Budafoki út to a pedestrian zone. As part of the World Heritage the square grew beautiful, the patinated Hotel Gellért has become an ornament of Budapest again, and the square regained its pleasant atmosphere.

The metro station is planned to the eastern side of the square, i.e. to the place of the previous monument.
Station data
Length of the station: 87 m
Length of the platform: 80 m
Effective platform area: 820 m2
Underground depth: -31,0 m
Number of escalators: 4+4
Number of elevators: 2
Number of exits: 1
Construction system: mixed
Station type: middle-platform